Description
This security label is an innovative product combined physical carving letters and hot stamping hologram strip, which have obtained the national standard and international patent. 
The National Standard Number is GB/T37470-2019.
We have independent research institute and professional technical team to provide one-stop anti-counterfeiting solution.
Features:
1. Patented multi-layer material to ensure the anti-counterfeiting performance of this label. 
2. 3D colorful QR code and letters are core anti-counterfeiting features, which are randomly carved by physical patented production process.
3. The core anti-counterfeiting features have different heights and colors at each part, and feel concave when touched by hand. even we cannot produce two identical label. 
4. Unique anti-counterfeiting features with unique serial number ensures uniqueness of this security label. 
5. Window security thread with microtext to enhance anti-counterfeiting performance.
6. Beautiful hot stamping pattern enhance your brand image ,which could increase product value. 
7. Scan code to verify authenticity easily through independent R&D AI recognition system.
8. The security label could be designed as your need.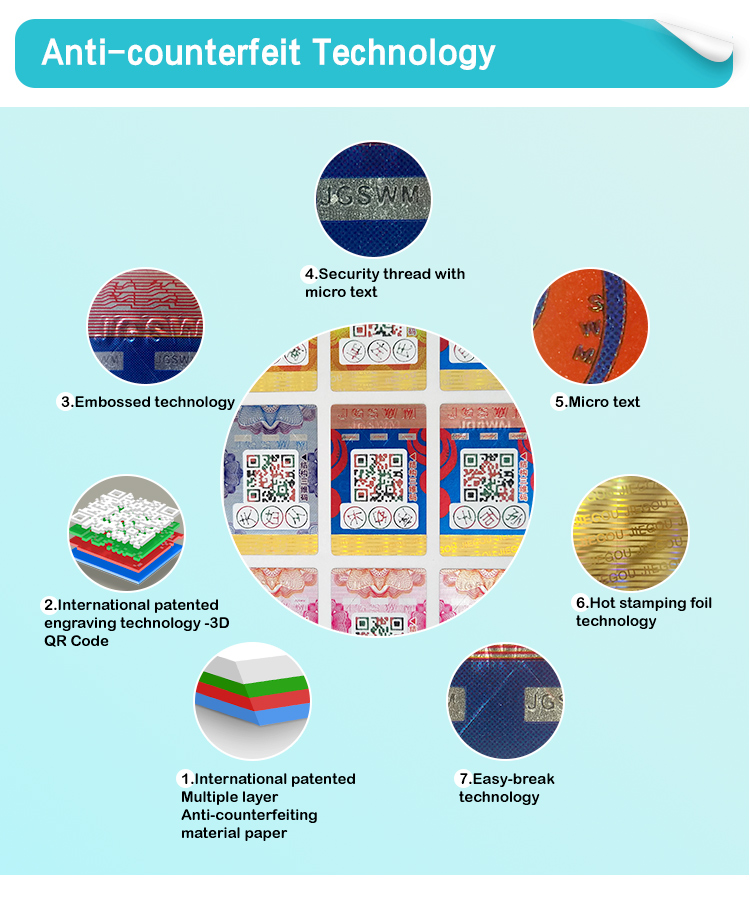 Software service: 
1. Self-developed software management platform to meet customers' various software requirements, such as traceability, marketing and delivery management. 
2. Our company uses multiple sets of servers for data sharing and backup to ensure data security and system stability.
3. Three sets of cloud servers (Amazon Cloud, Alibaba Cloud & Tencent Cloud), one local server (four local power supply systems are used locally), and one national four-star IDC computer room server (on the national network trunk road).
Software services
Scan the QR code to verify the authenticity and enter your website to take the lucky draw, collect points and other promotions.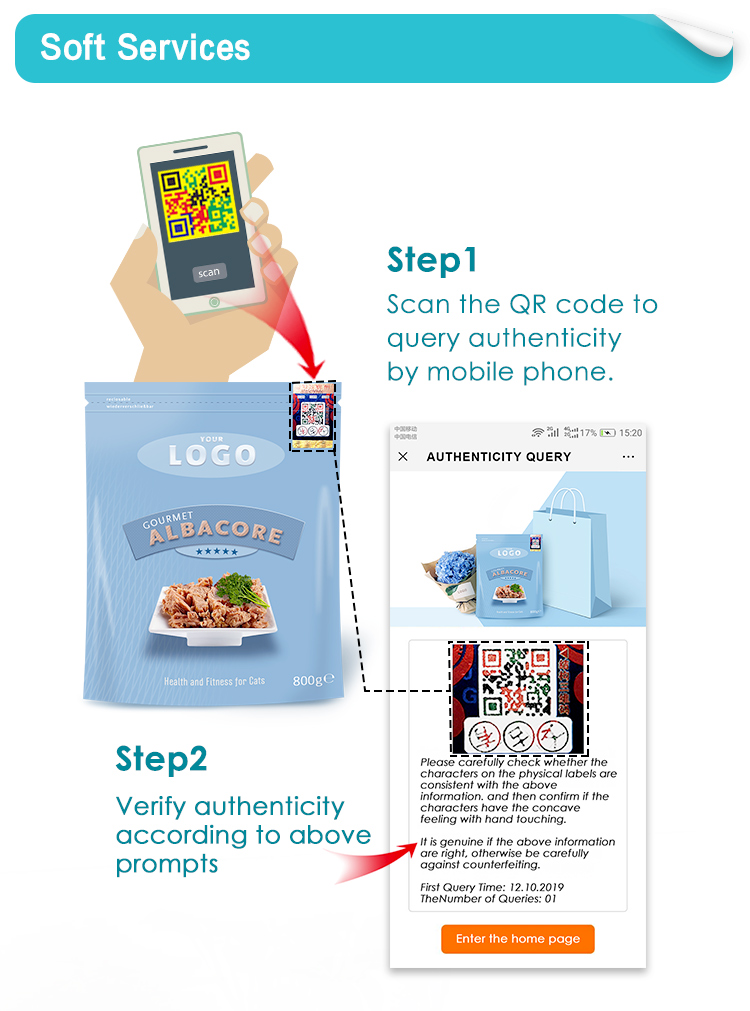 Step1 Scan the QR code to verify the authenticity by mobile phone.
 Step2 Verify the authenticity follow the instructions.
 Step3 Enter the verification code in the box and press confirm.
 Step4 Get a certain number of points
Applications:
Alcohol, Cigarette, Medicine, Domestic appliance, Cosmetic, Ticket and Certificate, etc.