Description
VOID label has been thought as a seal of warranty of items on which is applied. It can identify a compromised item by leaving a message on both the label and item. We can offer custom solutions for tamper evident void labels, where we can print any requirements onto the label, whether it's a barcode, QR code or unique identification number.
1. Once it has been taken off it can not be reused.
2. Unique serial numbers & barcodes enable secure asset management, tracking and verification of genuine returns and warranty claims.
3. Efficient shelter tool against tampering, counterfeiting and fraud.
4. They are supplied on printed rolls or sheets.
Competitive Advantage
1. unique and eye-catching design.
2. high strength adhesive.
3. scuff and scratch resistance.
4. PET or PVC, water proof and use in the moisture and damp weather .
5. Custom design and package is available in sheet and roll.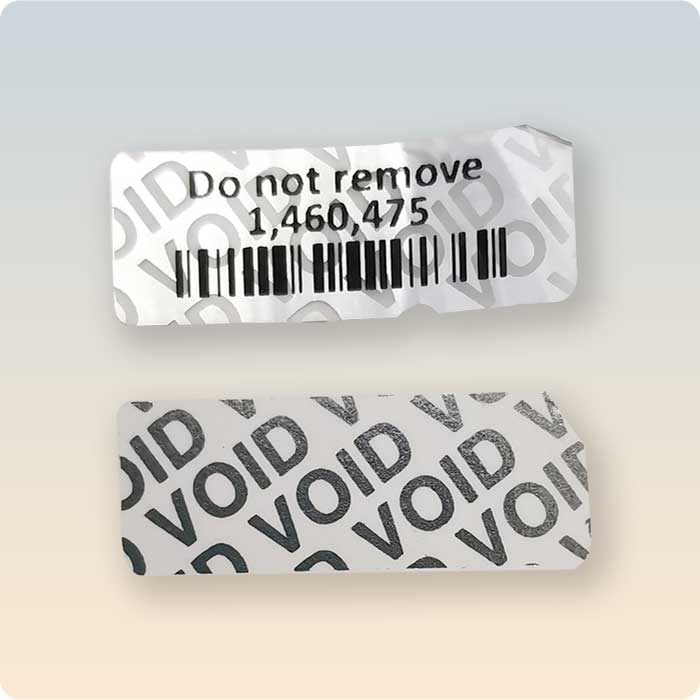 Features:
1. Strong Adhesive
2. Tamper proof
3. Extremely durable and long lasting
4. Anti-fake
5. Easy to apply
Applications:
manufacturers, repairers, recyclers & retailers of products such as mobile phones, CD's, DVD's, e-cigarettes, computers, car parts, perfume, jewelry and cosmetics, underwear, food products, etc.