Description
This Security Scratch-off Seal Sticker With Serial Random Number is an innovative product that combines physical carving letters and hot stamping hologram strips, which have obtained the national standard and international patent.
The National Standard Number is GB/T37470-2019.
We have an independent research institute and professional technical team to provide a one-stop anti-counterfeiting solution
Specifications: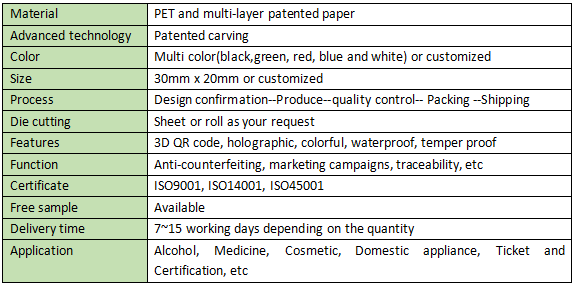 Features:
The QR code anti-counterfeiting label owns multiple anti-counterfeiting technologies.
Use PET and multi-layer patented paper as material; the multi-layer patented paper is protected by patent.
Colorful QR code with different shades printed with 3D technology, fusing various colors, applying hot stamping security thread and inlaid security thread with micro text. All these features promote the QR code scratch-off labelsto a new level of anti-counterfeiting.
Each QR code is unique, three-dimensional, and can not be copied. They are also eco-friendly, waterproof, and one-time use. When you touch the QR code, you will sense an obvious concave feeling. That's the special point of our QR code 3D print label.
Software service: 
1. Self-developed software management platform to meet customers' various software requirements, such as traceability, marketing and delivery management. 
2. Our company uses multiple sets of servers for data sharing and backup to ensure data security and system stability.
3. Three sets of cloud servers (Amazon Cloud, Alibaba Cloud & Tencent Cloud), one local server (four local power supply systems are used locally), and one national four-star IDC computer room server (on the national network trunk road).
Ways of verifying authenticity:
Scan the QR code to verify the authenticity and enter your website to take the lucky draw, collect points and other promotions.




Applications:
Alcohol, Cigarette, Medicine, Domestic appliance, Cosmetic, Ticket and Certificate, etc.