Description
The hot stamp stickerswith dazzling pattern easily attract consumers. These types of hologram labels produced by hot stamping machines are ideal for large-scale applications. All these hot-stamping holograms, once transferred onto the surface, cannot be removed. It is like a permanent impression.
Ourhot stamp stickers made of PET material are good at heat resistance, anti-friction and are less affected by the temperature. The hot- stamping hologrgams are easily stamped on paper, plastic, and PVC material, etc.
The hot stamp stickersare designed to prevent counterfeiting by combining our patented materials and engraving holographic hot stamping foil techniques. QR code can be added on it. It would be an attractive label on the surface of a product.
The holographic QR code label is considered a high-quality anti-counterfeiting sticker. Hot stamp stickers applied to these carrying objects lead to very good anti-counterfeiting functions and esthetic effects. It conveys that your product is high-quality and authentic.
Description:
What's special about the hot stamp stickers? Our QR code label with anti-counterfeiting characters can be printed on its surface, delivering a good anti-counterfeiting effect, totally secure and out of reach of the counterfeiters.
The PET material, eco-friendly, waterproof, moisture-proof, and not foaming, makes it a terrific material for manufacturing anti-counterfeiting labels at present.
Fully customized graphics are available. Our hot stamp stickers can come in a variety of patents and sizes to suit different needs.
The QR code can also be used for interactive marketing purposes. 
It can be integrated into a management system to facilitate product management.
Attractive appearance: The PET material brings vivid color for the graphics printed. The unique packaging, shiny and high quality, increases your product's value to a new level.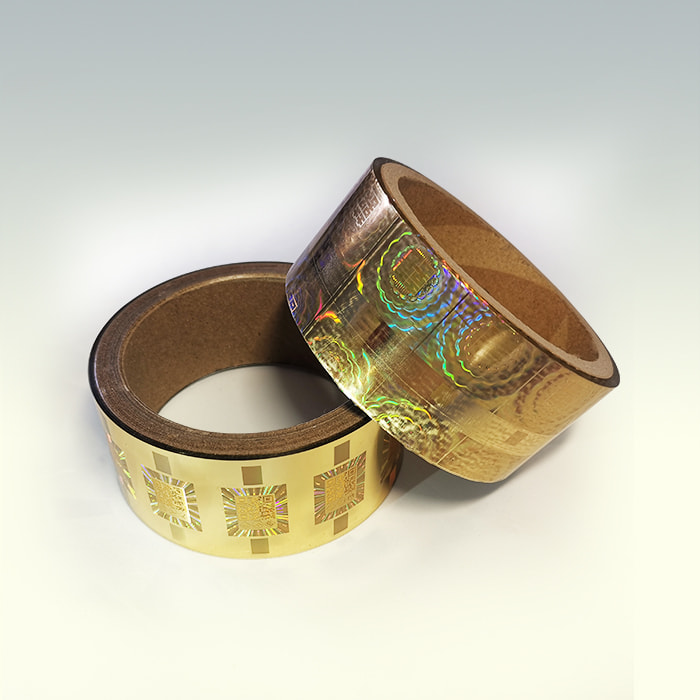 Features:
1. Material: PET 
2. Eco-friendly, No harmful substances such as formaldehyde 
3. Smooth face, vivid color, no shading 
4. Water-proof, moisture-proof, not foaming 
5. Type: roll form
Applications:
Confidential documents
Plastic products
Credit cards
Pre-printed cartoon labels
Textile garments
Official documents
Greeting cards