Description
Description:
Tianjian hologram QR code label (The National Standard Number is GB/T37470-2019)
What is a hologram sticker? A holographic sticker is an optical self-adhesive label attached to various packaging items. It has attractive visual effects and contains many anti-counterfeiting elements.
The anti-counterfeiting sticker with rotating text and characters from different angles can achieve the effect of anti-counterfeiting. Furthermore, the text is customizable, fully suited to the aim of product advertising.
Randomly rotating text is the core anti-counterfeiting feature of the hologram QR code sticker, randomly carved by the physical patented production process. That's our unique technology that has gained the national patent.
We have an independent research institute and professional technical team to provide you with anti-counterfeiting, shipping management, promotion and other services.
Features: 
The holographic security sticker stands out for adopting proprietary structural material, which has gained an international invention patent. The 3D QR code security label is high-security for anti-forgery. They are hard to counterfeit and the holographic visual effect attracts customers.
The anti-counterfeiting elements and information sets are randomly physically carved on the material.
Different parts of the characters are randomly presented with different heights and different colors with structural features, strengthening the possibilities of anti-counterfeiting.
The QR code of the hologram sticker can also be used for interactive marketing purposes. For example, users can get points when scanning the QR code with our APP to verify the authenticity.
Each label is unique, three-dimensional, structural and non-reproducible.
Free design and free samples are provided.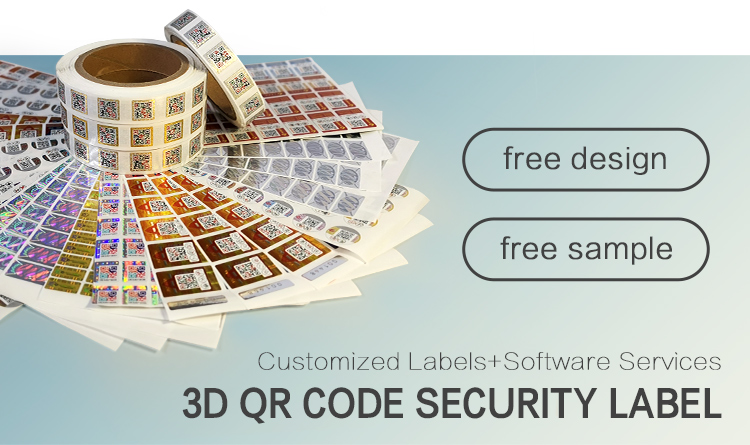 Software service: 
Self-developed software management platform to meet customers' various software requirements, such as traceability, marketing and delivery management. 
Our company uses multiple sets of servers for data sharing and backup to ensure data security and system stability.
Three sets of cloud servers (Amazon Cloud, Alibaba Cloud & Tencent Cloud), one local server (four local power supply systems are used locally), and one national four-star IDC computer room server (on the national network trunk road).
How to verify the product with our software services?
Scan the QR code to verify the authenticity and enter your website to take the lucky draw, collect points and other promotions.


Step1 Scan the QR code to verify the authenticity by mobile phone.
 Step2 Verify the authenticity follow the instructions.


 Step3 Enter the verification code in the box and press confirm.
 Step4 Get a certain number of points
Applications:
Electronic Accessories, Cosmetic Industries, Pharmaceutical Industries, Auto Spare Parts.