Description
Hot-stamping foil security labels are sticked easily on surfaces like paper, plastic, PVC material, etc. These types of Hot-stamping foil security labels produced by hot stamping machines are ideal for large-scale applications.
Our Hot-stamping foil security labels made of PET material are good at heat resistance, anti-friction and are less affected by the temperature.
The hot stamp stickers are designed to prevent counterfeiting by combining our patented materials and engraving holographichot stamping foil techniques. It is an attractive label on the surface of a product.
The holographic QR code label is considered a high-quality anti-counterfeiting sticker. Hot stamp stickers applied to these carrying objects lead to very good anti-counterfeiting functions and esthetic effects. It conveys that your product is high-quality and elegant.
Description:
1. Various patterns ranging from dots, squares, cracked ice, rainbow, pillars of light, snowflakes, swirls, etc.
2. Width, core, and the distance between individual holograms of Hot Stamping Foil are determined by you.
3. Your logo or image can be designed
4. Hot stamping foils are available in gold, silver, and a range of other metallic colors.
5. Hot stamping foils are applied using heat and pressure (hot stamping).
6. The holographic image cannot be removed from the substrate without leaving visible signs of tamping. 
7. We supplied hot stamping foils in roll form.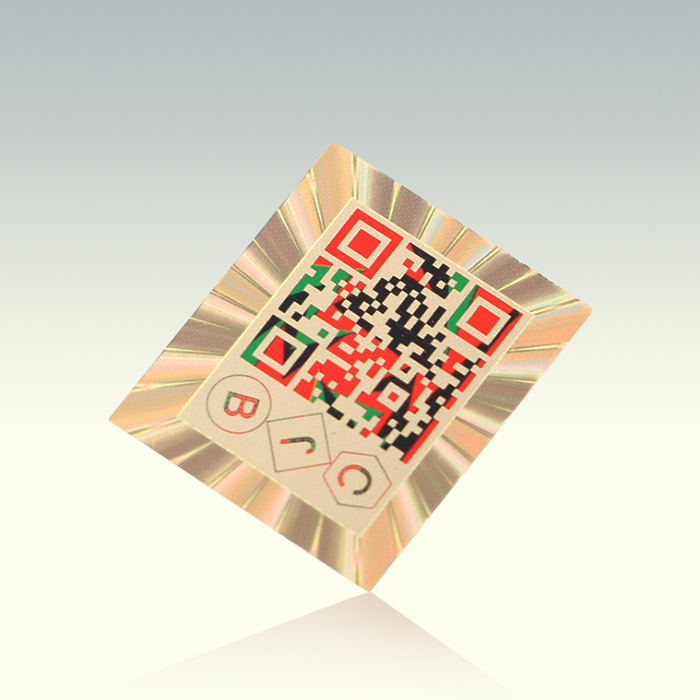 Features:
1. Material: PET 
2. Uniform thickness
3. Fine finishing
4. Aesthetic look
5. Embedded with security features (Guilloche, Micro text, Hidden text, etc.)
Applications:
Cigarette packet, carton packaging, greeting cards, wedding cards, Pharma Labels, branded products, certificates, tickets, paperback books, selling promotion, profiling products, cosmetic, advertising.